Digitalize operating procedure management in your company
Work better, faster and more efficiently! SOP app – the intuitive application that connects people, processes, data and documents.
Get rid of the nightmare of files or spreadsheets with procedures that are difficult to follow. A procedure with more than 15 steps involving employees from several departments is a challenge to implement. The alternative is SOP app – the procedure management application that brings clarity, data security and efficiency. Digitalize the management of operational procedures and enjoy the advantage over your competitors, newfound agility and flexibility, regardless of the size of your company. Automate, and save time and money!

1,000+
Successful projects

12+
Countries our clients are
present in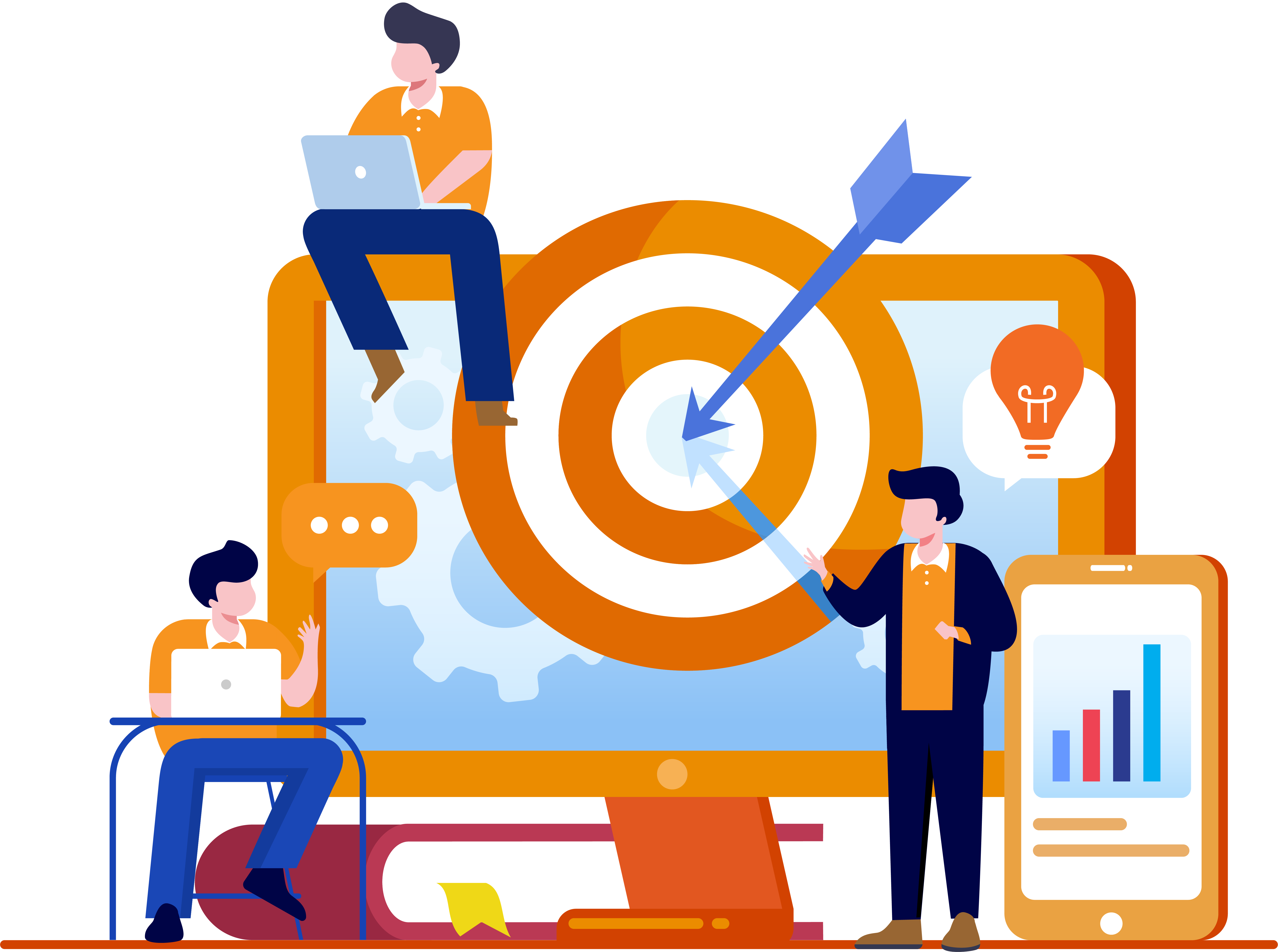 THE KEY TO GROWTH
The difference between a successful
company and a struggling one...
Have you ever wondered how successful companies do it? How do they manage thousands of employees spread across numerous departments and consistently deliver good results?
Without exception, large and successful companies automate all business processes. They have documentation, protocols, and procedures – all of which are rarely found in small businesses. And that's one simple reason why most small businesses are struggling.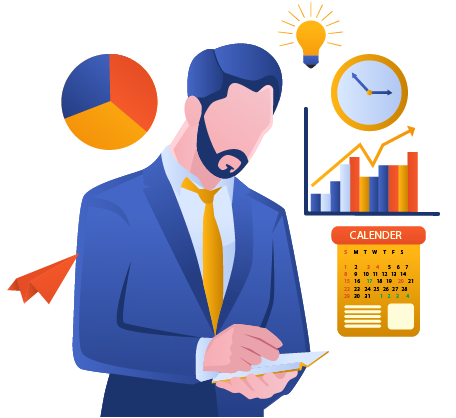 START TAKING CONTROL
Your job is NOT to put out fires. Your job is to prevent fires
There are many things you can't control – the economy, the weather, the financial markets – and your business must adapt to the external environment. However, you have control over your internal business processes, and now is the time to start perfecting them.

It is up to you and your team to prevent and manage unforeseen situations that endanger your business. Your safety net is a system of well-developed operational procedures, known to everyone and easy to find in crisis situations. Each member of your team is trained and knows exactly what to do. In addition, since each crisis situation is a teachable moment, the procedure can be adapted and improved to ensure that you will never face such a problem again. Profitability, efficiency and an excellent team are the results of such quality processes.

When your work process is more organized, faster and more efficient, automating business processes that are often repeated or that are costly if not done well, you may wonder why you did not make the decision sooner to digitalize long-term operational procedures using SOP management.
Your complete Procedure Management Tool

Easy Start
Install the application and add all employees, departments and procedures. The pre-existing template and the detailed user manual will help you to quickly and easily digitalize the management of the operational procedures in your company with SOP.

Simple
employee access
We're keeping things simple. Employees can only view and access the procedures involving their jobs. Staff cannot make any changes to the procedures without your permission.

Instant
comunication
All the parties involved are instantly notified when a new procedure is added or an existing one is modified. We then make sure that everyone got the news by requesting their confirmation.

Constant
process improvement
Your team can now publicly suggest new and better ways of doing business, creating an environment that's optimized for efficiency yet open to creativity and innovation.
Put your business on Autopilot and you'll...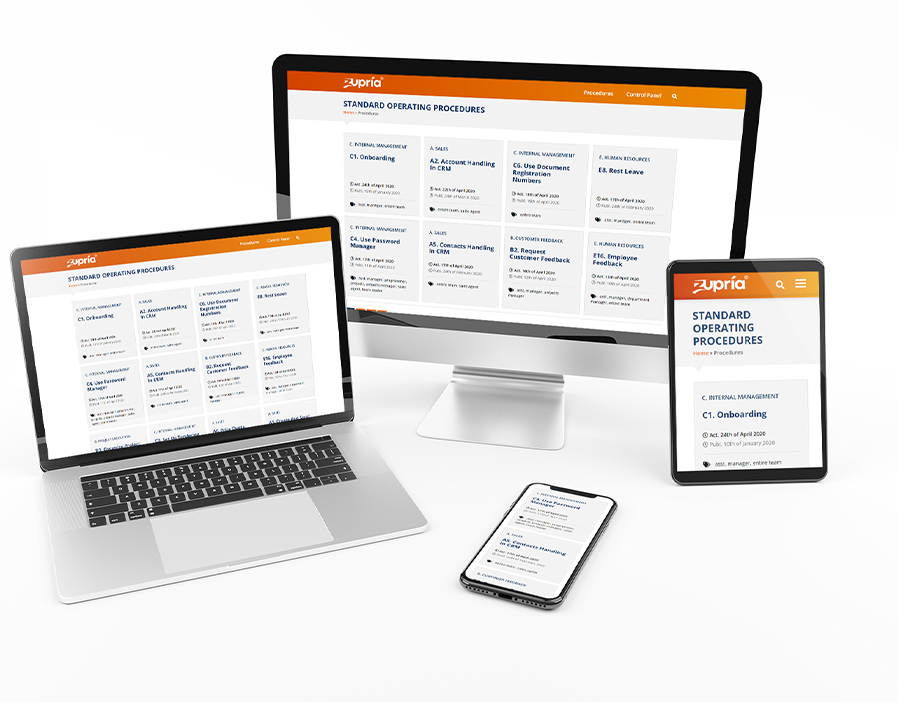 Minimize and prevent employee errors
Have a consistent company response, always on time
Train your employees faster
Have more time to focus on what matters
Be able to franchise your business
Run Your business from anywhere in the world
I WANT TO BUY NOW
Easy management of company policies
Keep company know-how safe
Keep your company know-how, which is represented by your procedures (the efficient way you do things), on your safe server where your website is hosted. Easily transfer this know-how across teams and new employees.

Automatic notifications
Consistency and predictability help your business grow. Employees know and confirm the implementation of operational procedures through a system of automatic notifications received each time they have to reread or re-approve the procedures that directly affect them.

Advanced search functionality
Your staff can find the needed procedures on time by using the built-in search function. You can search for specific content both from the policy title and body.

Evolution of procedures - highlighting changes
Operational procedures can change over time, and changes are easy for users to see, clearly highlighted in the original document, before saving the new version. Previous versions of the procedures can be consulted, thus encouraging innovation.

Check if the procedure has been mastered by your team!
From the administration panel, you are able to view the activity log of each procedure or each user, in whatever period of time you consider important. You can see which procedures have been read or accepted by one or more team members.

Export pdf
Operational procedures can be exported by department (e.g., marketing department procedures) or by company role (e.g., project manager procedures).
The application is created as a WordPress plugin, meaning that only those who have access to the company's website can access the procedures. This increases the security of the company's procedures and know-how.
Users are assigned to one or more roles in the company's organizational chart, and procedures are assigned to each role. Thus, it is very simple to grant access to procedures for new employees, as the employee only needs to be assigned to the relevant roles and is immediately given access to all the procedures related to those roles. By hiding procedures that do not interest them, the platform helps employees navigate through procedures. This is also a security measure in protecting the company's know-how, as it follows a "need to know" principle.
For better organization, in addition to allocating procedures to roles (Departments), procedures are also assigned to certain Categories.
When a new procedure is added or when an existing procedure is edited, employees who have access to this procedure receive an email with a link to all added or modified procedures. The email remains active until the employee accesses each procedure and confirms that he/she has read and understood it. If the employee does access the procedure, the employee will continue to receive an email until he or she performs the operation. The frequency with which users are notified of changes to procedures can be chosen from the administration panel, among the following values: 1 hour, 3 hours, 6 hours, 12 hours, 24 hours, 1 week, 15 days, 1 month.
When viewing a modified procedure, all deletions or additions are highlighted in the text of the procedure (additions with a green background, deletions with a red background). The text is no longer highlighted after the viewer accepts the procedure.
For procedures that do not change for a longer period of time, there is an option of "procedure lifetime", which requires the procedure to be reviewed once the period set from the administration panel has elapsed, so that employees do not forget a rarely used procedure. The lifetime of a procedure is set by choosing a number between 1 and 30, followed by the unit of measurement (days, months or years).
All user activity on the procedure platform is recorded in an activity log. This offers quick and easy access to data, such as which users did not accept all the procedures, when they accepted each individual procedure, when they viewed a procedure without accepting it, etc.
The procedures can be exported by departments or by categories, in .pdf format, so that they can be made available to employees in physical format as well.
The application also provides an advanced search form, which allows the quick identification of any procedure, searching by free text, category, department, author, date of initial publication, date of modification.
Users can suggest modifications to procedures by filling in the comment form available for each procedure.
The Dynamic procedure feature allows the creation of a procedure through a tree-like structure, with dynamic questions, which appear depending on the answer to the previous question. This procedure is run an infinite number of times and is especially useful for situations that are initiated by an employee in relation to a person outside the company (client). Examples: sales agents, technical support agents, etc.
X hide SOP functionalities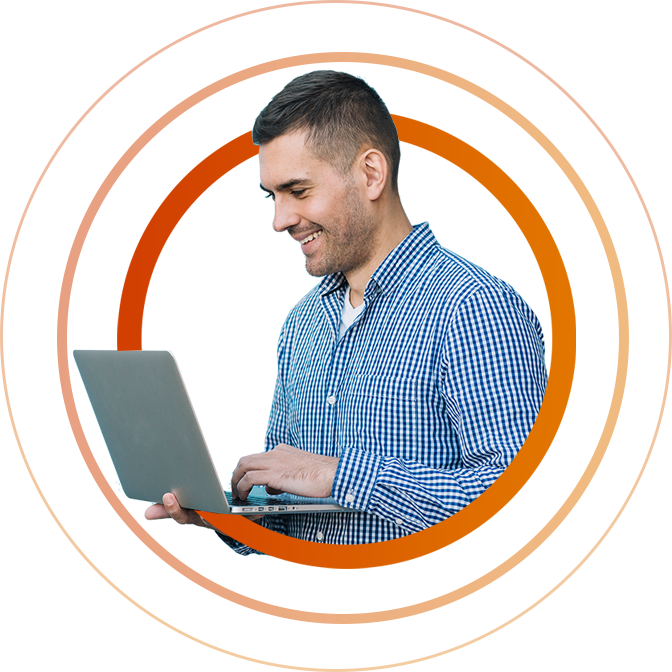 You need a procedure management solution if...
You want a more efficient business
You need to reduce costs
You lose efficiency when key employees leave the company
You want to gain more control over your business
You have no automated process for creating policies
It is difficult to track who did what
You have to manually handle all procedures
User Manual
Check the Manual to see in detail how easy it is set up the SOP Plugin – the operational procedure management application.
Work faster, better and more efficiently!
Procedure Template
Download from here the Procedure Template, the guide that helps you create effective procedures regardless of company size or niche.
Take your business to the next level with a powerful
Procedure Management Plugin
The operational procedure management SOP application is a plugin that is installed only on WordPress websites. If you do not have a WordPress website we will set up a default user framework for an extra 99 euros. Just check this option below in the chosen service package. The solution for digitalizing operational procedures is designed to be used as easily and intuitively as possible by all companies, regardless of size. The application is a digital framework to which you and the team must add the procedures you use.
You will gain lifetime access to the SOP Plugin by purchasing any of the packages. In addition, for 1 year after purchase, you will receive technical assistance and all application updates. The annual fee is applied again after 1 year, with 30% discount, in order to have access to continuous updates and new features (payment is recurring, so you do not have to worry about manually purchasing one of the packages).
FAQ
What should I do after paying the extra option: installation and configuration SOP Plugin?
+
-
After purchasing the installation and configuration service of the Extra plugin, please communicate with us by email: contact@zupria.com and provide the date and the way you want to be contacted in order to send us the credentials necessary for the implementation.
What should I do after paying the extra option: hosting SOP Plugin?
+
-
I can't complete the order process!
+
-
Can I use the SOP Plugin if I don't own a WordPress website?
+
-
No, you can only install and use our plugin on a WordPress website. We can fully set a basic WordPress website for you, with our Procedure Management Plugin installed, all for a small setup fee.
Can I still use the SOP Plugin if I don't pay for the second year?
+
-
Yes, you can use the plugin forever with the most recent version that was available during the time frame when your license was active. To keep receiving support and updates, you'll need to have a valid license.
Is SOP Plugin WPML compatible?
+
-
Yes, our plugin is 100% WPML compatible.
Can I upgrade SOP Plugin to a more complex version?
+
-
Yes, you can upgrade anytime and you'll only have to pay the difference between the new package and the old one. The difference is fixed no matter how long you still have left on your yearly license.
No, if you want to downgrade you have to purchase another license.
Copyright 2023. All rights reserved